Support your bones & joints and leave weakness and tiredness behind!
As one of the most important and abundant protein in the human organism, collagen represents up to 30% of total protein mass and is responsible for the normal function of the locomotor system, skin, muscles, cartilages and connective tissue.
What are the main components of Nutrigold collagen for Bones & Joints?
This collagen is a natural source of protein, calcium and magnesium, but also a rich source of:
vitamin C
vitamin B1, B2, B6 and B9
vitamin D and E
Proteins contribute to the maintenance and increase of muscle mass, and at the same time to the maintenance of normal bones, while calcium is responsible for additional improvement of bones health.
Calcium has numerous other health benefits meaning that is responsible for normal energy production metabolism and nervous system functioning, normal muscle function and function of digestive enzymes. It has a role in the process of cell division and differentiation, while vitamin D contributes to the absorption of calcium and phosphorus and the maintenance of normal bones and the maintenance of normal muscle function.
Magnesium represented in collagen contributes to reducing fatigue and normal energy production metabolism, nervous system functioning and normal muscles function as well as protein synthesis and maintaining normal bones.
Being a rich source of vitamin C, Nutrigold collagen can increase iron absorption simultaneously contributing to:
maintaining normal immune system function during and after intense physical activity

normal collagen production for the normal function of blood vessels, bones, cartilage, skin and teeth

normal energy production metabolism

the normal function of the immune system and reducing fatigue and tiredness

protecting cells from oxidative stress
In addition, Nutrigold collagen is also a great source of vitamin B. Vitamin essential for certain metabolic processes and body functions.
Vitamin B2 (also known as riboflavin) contributes to normal skin, energy metabolism process, mucosa and eyesight, while vitamin B1 (known as thiamine) creates energy and participates in the forming of the normal nervous system and heart.
Pyridoxine, also known as vitamin B6 plays a role in a normal energy production metabolism, reduction of fatigue, exhaustion and normal metabolism of homocysteine, protein and glycogen.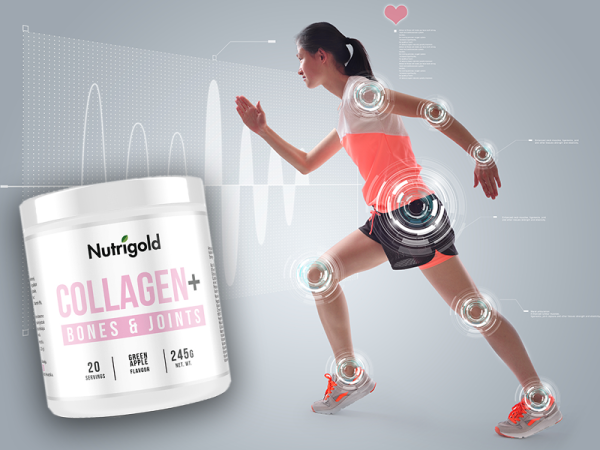 Why should you choose Nutrigold Bones & Joints?
Nutrigold bones & joints collagen is enriched with delicious and natural green apple flavour containing a unique BODYBALANCE® formula of hydrolyzed beef collagen peptides and hyaluronic acid beneficial for joints regeneration. Active ingredients such as MSM, chondroitin and glucosamine contributes to increasing cartilage mobility and reducing joint and bone pain.
BODYBALANCE® formula with the highest quality hydrolyzed collagen peptides has much higher absorption power when in form of food supplements like Nutrigold Bones & Joints in comparison with the ones found in food.
Since collagen is one of the most important proteins in the body that is constantly synthesized, it is necessary to take it regularly because over time its synthesis slows down.
It doesn't take much for joint and bone health!
Suggested use:
Add one scoop (12,25 g) of food supplement to 2dcl of water and stir well.
Ingredients:
Peptides of hydrolyzed bovine collagen (BODYBALANCE®), glucosamine, MSM, calcium, magnesium citrate, vitamin C (ascorbic acid), acidity regulator: citric acid, chondroitin, natural apple aroma; colour: betacarotene, brilliant blue FCF, vitamin E; sweetener: sucralose, hyaluronic acid, vitamin D3, vitamin B1, vitamin B6, vitamin B9 (folic acid)
Warning:
Keep out of the reach of children.
Recommended daily dosage should not be exceeded.
Food supplements must not be used as a substitute for a varied and balanced diet and a healthy lifestyle.
Pregnant, breastfeeding women and individuals taking medications should consult with a healthcare professional before use.
Storage instructions:
Store in a dry and dark place at room temperature.
Expiry date/LOT number:
Indicated on the packaging.
Distributed by:
Galleria Internazionale d.o.o., Predavčeva 6, 10000 Zagreb, Croatia
Country of origin: United Kingdom (With Northern Ireland)