Healthy nails, skin and hair despite the inevitable ageing process.
For complete and visible effects on the skin, creams containing collagen that acts only for the outer layer of the skin are most of the time not enough to nourish your skin from the inside. For those reasons, food supplements like collagen powder are used.
As one of the most important and abundant protein in the human organism, collagen represents up to 30% of total protein mass and is responsible for the normal function of the locomotor system and connective tissue.
It's one of the major building blocks of bones, skin, muscles, tendons, and ligaments. Considering that collagen production drops as we get older, it is recommended to increase intake with dietary supplements.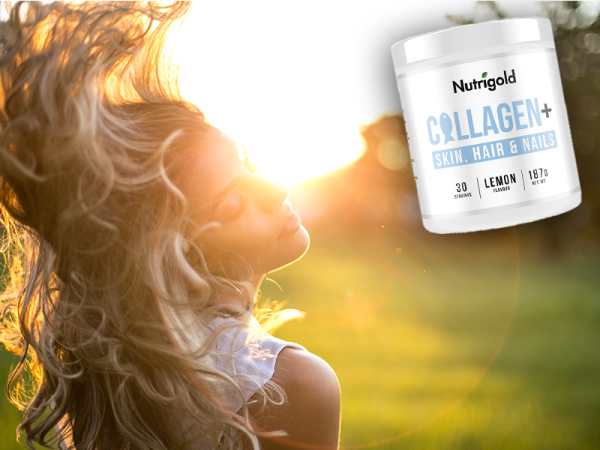 Why should you start using Nutrigold Collagen+?
Collagen+ for skin, hair and nails is a complex nutritious supplement that may help in reducing wrinkles, hair thinning and nail damage. This formula is recommended for women who passed their thirties and want to rejuvenate their skin from inside.
Due to the patented fish collagen peptides NATICOL® formula, this product has a small molecular mass and great absorption power. Zinc and vitamin C enriched formula contributes to better absorption of Naticol® - a type I. collagen.
Nutrigold collagen doesn't contain salt and ''bad fats'' or saturated fatty acids while it is also rich in protein and vitamin C.
Proteins contribute to the maintenance and increase of muscle mass, and at the same time to the maintenance of normal bones, while vitamin C or ascorbic acid contributes to:
maintaining normal immune system function during and after intense physical activity
normal collagen production for the normal function of blood vessels, bones, gums, teeth and cartilage
normal energy production metabolism and nervous system functioning
normal function of the immune system
protect cells from oxidative stress
reducing fatigue and exhaustion
regenerating the reduced form of vitamin E and increasing iron absorption
Nutrigold collagen is enriched with delicate lemony notes which makes this powder easy to drink and blend in your morning rituals.
Improve the look and health of your skin, hair and nails with citrus flavoured Nutrigold Collagen+ enhanced with high-quality Naticol collagen!
Suggested use:
Add one scoop (6,23 g) of dietary supplement to 2dcl of water and stir well.
Ingredients:
Peptides of hydrolyzed fish collagen (NATICOL®), ascorbic acid (vitamin C), natural lemon flavour, hyaluronic acid, colourant: beta-carotene; sweetener: stevia, sucralose
Warning:
Keep out of the reach of children.
Recommended daily dosage should not be exceeded.
Food supplements must not be used as a substitute for a varied and balanced diet and a healthy lifestyle.
Pregnant, breastfeeding women and individuals taking medications should consult with a healthcare professional before use.
Storage instructions:
Store in a dry and dark place at room temperature.
Expiry date:
Indicated on the packaging.
Distributed by:
Galleria Internazionale d.o.o., Predavčeva 6, 10000 Zagreb, Croatia
Country of origin: United Kingdom (With Northern Ireland)