Thousands of combinations for your breakfast and dinner!
Cornflakes Fit with low sugar content is a healthy meal option for breakfast or any light meal throughout the day. Low in fat with high fibre content.
Whether you prefer it with milk, yoghurt or any fruit juice, it is entirely up to you to decide, but one thing is for sure, Nutrigold cornflakes should always be the staple ingredient of your breakfast.
Cornflakes fit:
contains 98,5% of cornmeal
low in fat and sugar
source of dietary fibre
GMO-free
Nutrigold + Cornflakes = Your Winning Combination!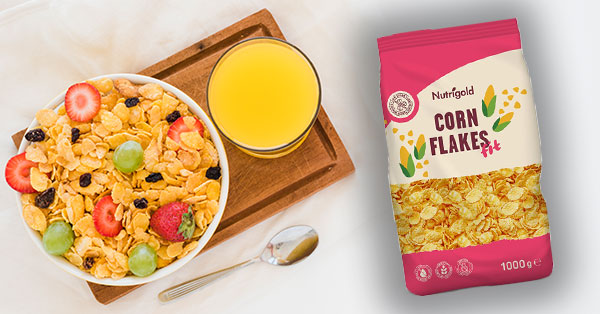 Suggested use:
Pour milk, yoghurt or fruit juice over your cornflakes bowl. Add fresh or dried fruit, compote or muesli if desired.
Ingredients:
Cornmeal 98,5%, salt, malted barley extract, acidity regulator: sodium phosphate
Warning:
May contain traces of peanuts and nuts.
Storage instructions:
Store in a dry, cold and dark place.
Expiry date/LOT number:
Indicated on the packaging.
Distributed by:
Galleria Internazionale d.o.o., Predavčeva 6, 10000 Zagreb, Croatia
Country of origin: Poland