Hazelnut butter will easily become an essential part of your diet, mark our words!
Although when we mention nut butter, peanut butter first comes to mind, you will love the spread of other nuts too, if not even more. We love them on bread with jam, in morning smoothies and in healthy desserts.
Seeds and nuts spreads are a great source of protein and healthy fats!
In addition to a significant amount of unsaturated fatty acids, minerals and vitamins, hazelnuts are also rich in phytosterols, biologically active steroidal alcohols of plant origin known for their ability to prevent cardiovascular diseases and tumours.
Hazelnuts are a food relatively rich in calories, so 100 grams of hazelnuts contain 628 kcal. Hazelnuts are also a very good source of dietary fibre, so 100 grams of hazelnuts contain 10 grams of fibre, which is 39 per cent of the recommended daily amount, but protein is also an integral part of this food.
We find them in an amount of 15 grams per 100 grams of hazelnuts, which is about 30 per cent of the daily recommended intake for the average person. Hazelnuts are a very good source of minerals - manganese, copper, magnesium, phosphorus and iron. They are rich in vitamins E, B and folic acid.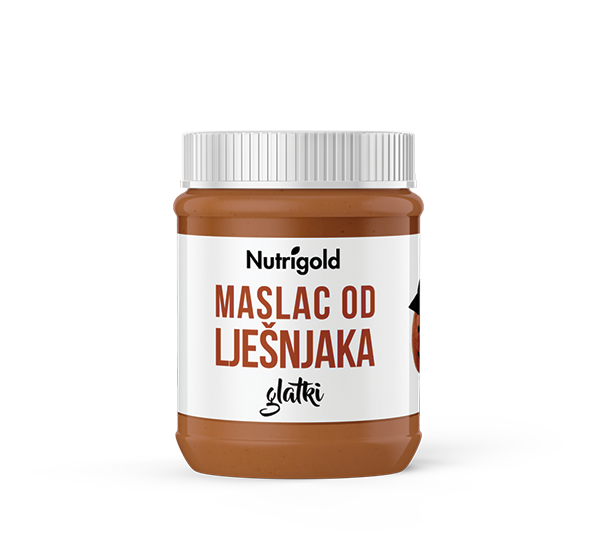 Hazelnuts are unique in that they contain a significant amount of folic acid. This vitamin is usually found in green leafy vegetables but is very easily destroyed by heat treatment. Thus, in just two minutes of cooking, almost 90 per cent of the folate in vegetables is destroyed. Folic acid is necessary for pregnant women because its deficiency in pregnancy leads to spontaneous abortions and deformities of newborns.
Like all other nuts, hazelnuts are also incredibly healthy and nutritional food!
Nutrigold hazelnut butter is made entirely from hazelnuts, without salt, sugar and palm oil. It is an excellent source of protein, carbohydrates, healthy fats, minerals and vitamins. It has a creamy taste, making your healthy diet complete.
Advantages of Nutrigold hazelnut spread:
100% natural
without salt and palm oil
no added sugar
high content of natural protein
contains healthy fats and unsaturated fatty acids
Seeds and nuts are a major source of vegetable fats in a vegetarian diet. It is important to emphasize that in a vegetarian, and especially vegan diet, spreads made from seeds and nuts are also valued as an important source of protein, which is extremely important in children's diets.
Regardless of the seeds or nuts they are made from, spreads are a great addition to many recipes, mostly breakfast meals, but also for shakes and pre-post workout routine. It is up to you to choose one that you love the most and to make your life easier, we have created a selection of our favourite ones...
Have a look at our NEWSLETTER to get more ideas.