Clay is composed of more than 60 minerals, mostly silicon, aluminium, potassium, calcium, sodium, magnesium, silver, iron, lead and copper.
Fill the tub with water that is as hot as you can stand it, but still comfortable (around 38°C). Add 4 heaped tablespoons of clay and soak in the bath for no longer than 15 minutes. That is basically everything you will need for a relaxing green clay bath that has great detoxifying properties.
Clay baths are a great way to unwind and relax your body, reduce stress and cellulite leaving your skin silky smooth and soft to touch.
Toxins and heavy metals pollute everything around us, including water, air and food. Cosmetic products used on a daily basis are packed with chemicals and harmful ingredients. When these undesired heavy metals accumulate inside the internal organs, bones and tissues, our body can't eliminate them without our help.
Clay is one of the most detoxifying substances on earth. It's perfect for a full-body detox on those days when you just feel heavy and exhausted. It's a popular misconception that detoxing from the inside out is the only way to complete detox. As soon as you discover all the health benefits of clay you will realize that statement is far away from the truth.
Let's not forget that skin is our largest organ allowing that detox may be performed from the outside as well!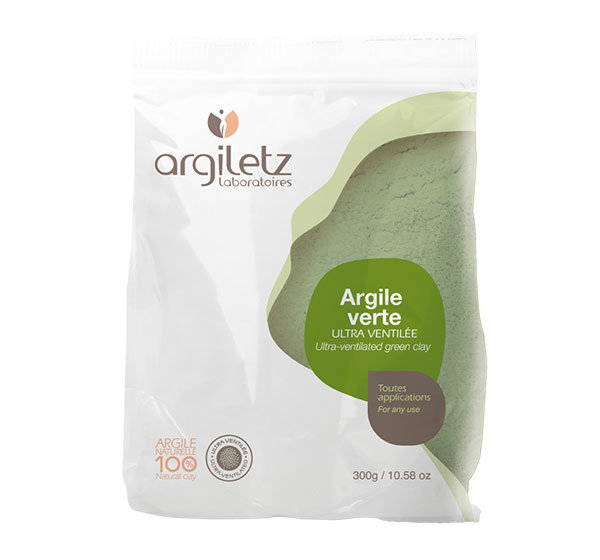 In addition to expelling toxins through sweat, our skin contains a specific protein called Cytochrome P450 that also just so happens to be found in the liver. It is this protein that helps make toxins water-soluble so that they may be excreted through urine and sweat! Clay has a special affinity for attracting these nasty toxins and detoxing the body by pulling toxins inside the clay molecule itself meaning the clay literally eats toxins! This is because toxins and other impurities have a positive charge while pure clay has a negative charge. The opposites attract and the toxins are "eaten" by the clay molecules.
Clay's beneficial properties are equally important for both inside and out.
Clay packs and masks nourish the skin and release toxins, while oral consumption of ventilated green clay helps eliminate impurities from the blood and organs, which strengthens immunity. It is used in many diseases, especially arteriosclerosis, anaemia, respiratory diseases, colic bacteria infections, intestinal diseases, poisoning, ulcers, excess stomach acid, painful menstruation, skin changes and hair loss.
To sum it up, whichever shape or form you decide to go for, green clay should always be welcomed in your daily routine!

Subscribe to our newsletter for more recipes and tips for healthy living!