Less impressive than baobab, with a smaller canopy than cashew tree, shea tree can usually grow up to 15 meters high with a 1m trunk diameter. It is believed that his lifespan ranges between two and three centuries. Its treasure is precisely its nuts.
Harvest takes place from the middle of June until the end of September. Shea butter production is labour-intensive work that requires as much as 100kg of dried fruits for only 20kg of pure butter. The shea tree is a traditional African food plant that has been claimed to foster rural development and support sustainable land care due to which African women can pay for the education of their children.
Considering all the benefits and nutritional value, edible shea butter is without a doubt one of the most important skincare products. In addition to moisturizing, shea butter also protects and helps heal the skin. The high-fat content makes it an effective and soothing salve for minor cuts and burns, and it is very effective in treating chapped lips, feet, and hands. It also contains cinnamic acid, a chemical that blocks some ultraviolet rays from the sun.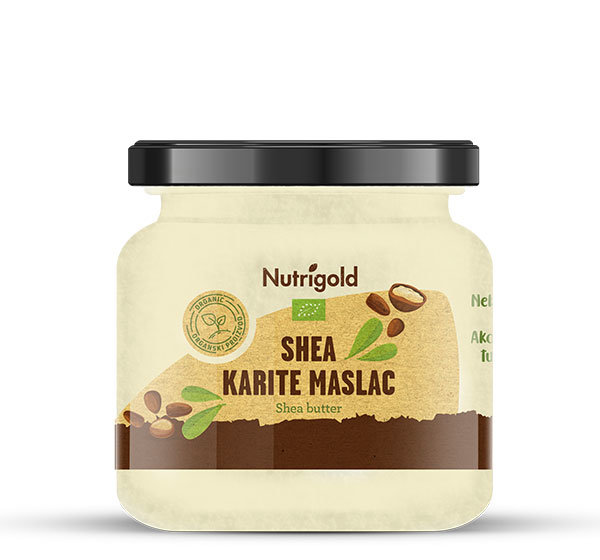 Generally prized for its exquisite active compounds like non-soap fat (5 and 8%). Those molecules have the ability to renew the hydro-fat layer of the skin without clogging the pores. Shea butter is also a great source of fatty acids, vitamins and sterols which prevent water evaporation and stimulates cells renewal.
Shea butter is suitable for hydrating all types of skin. It is especially efficient in regenerating cells of mature and wrinkled skin. Since it will not cause any allergic reaction, this vegan butter can be also used on sensitive baby skin as well as for treating nappy rash.
Due to its anti-inflammatory effect, it helps with various skin diseases such as acne, seborrhea, psoriasis, eczema and atopic dermatitis. It penetrates deep into the skin and regenerates it, so it is used in the treatment of cuts, scratches, burns and scars. Pregnant women use it in pregnancy for preventive protection against stretch marks. It is also ideal for lip care because it protects them from wind and cold, retains moisture and makes the lips soft. It helps capillary circulation which increases the supply of oxygen to the tissue and improves the elimination of toxins.
It can also be used for sunbathing but you should be careful as it has a small SPF, approximately 5-8. Therefore, if you want to make homemade sunscreen, some "stronger" oil should be the base for shea butter. As sun protection, it is applied to the whole body before sunbathing, but also to the hair to protect it from drying caused by the sun and salt.
We have used it and convinced ourselves of its beneficial properties... particularly in a HOMEMADE SPA where it has one of a leading role.
We have more tips and tricks in store for you. Visit our website and subscribe to the NEWSLETTER.