When it comes to breakfast, flakes are often used ingredient. Whether it's oat, buckwheat or rice, to name a few... whichever you choose you can be sure that you will have a healthy and nutritious meal to start off your day!
Now, have you heard about a protein-packed superfood that can fit almost any dish?
Quinoa? Wait, what is quinoa! Let's find out more about quinoa flakes.

Although known from ancient times, quinoa is technically not a grain but a herbaceous plant nowadays referred to as a pseudocereal.
In ancient South American cultures, it was a source of strength and endurance, and because of its nutritional value, quinoa is finally getting its rightful place on European menus. Quinoa is a complete source of protein since it contains all 9 essential amino acids, which is the main difference compared to other cereals. In addition, it contains the amino acid lysine, which is an essential source of tissue growth and recovery.
With that in mind, quinoa is definitely a great breakfast or snack option. Suitable for almost any combination, ranging from various herbal drinks, dried fruits, nuts, seeds and other flakes, quinoa will easily fit them all.
Rich in vitamins B6, A, magnesium, calcium and potassium, quinoa is great food for children as well, although bear in mind that is not recommended for babies before they turn 8 to 10 months. Although allergic reactions to this food in children are almost insignificant, it is relatively difficult to digest for smaller babies. Combine flakes with fruits, but even vegetables that your babies adore, and serve them a meal full of protein!
In order to improve the protein content in the thick smoothie you drink before going to work, chia seeds and flax seeds are often added, but quinoa flakes can also be added. A dose of protein will instantly turn a plain smoothie into a real breakfast that will satiate you until lunch.
Nutritionally speaking, 100g of raw quinoa contains 368 kcal of which 64,1% carbs, 14,1% protein and 6% fat.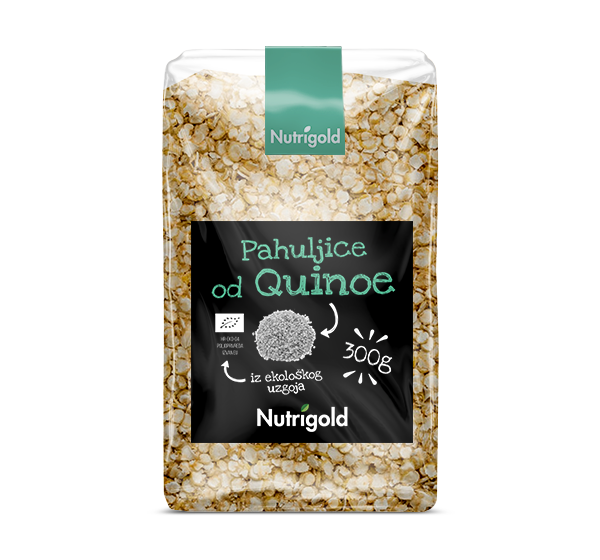 If you love preparing homemade granola and energy bars, consider replacing traditionally used oat flakes with quinoa ones.
Quinoa pudding is another great dessert that can be made with quinoa flakes. The recipe is simply prepared in the same way as any pudding, except that rice or oatmeal is replaced with quinoa flakes and common ingredients such as almond milk, cocoa and sweeteners are added. You can sprinkle the finished pudding with cinnamon, berries or nuts.
After all, if preparing breakfast is not your thing, but you like to eat healthy and tasty - sweeten them with rice or agave syrup and enjoy!
Did we inspire you to eat healthily? More suggestion and healthy recipes are waiting for you on our NEWSLETTER!