Moringa is often entitled the world's most useful tree or a ''miracle tree'' due to its health properties. Native to India, moringa grows in the tropical and subtropical regions of the world and was recognized by many ancient civilizations of Africa, Asia and Latin America.
According to Ayurveda, this plant can cure more than 300 diseases - used in diabetes, to regulate blood pressure, in case of energy and weight loss, malnutrition, overweight, lupus, inflammatory skin changes, respiratory diseases, digestive disorders, ulcers, osteoporosis, impotence, menstrual problems, tumours, Crohn's disease, arthritis, anaemia, a wide range of liver diseases ... In addition, it is attributed to aphrodisiac effects - it helps men with erectile dysfunction and increases the sex drive for women.
Moringa from A to Z
This plant, native to the Himalayas, reportedly contains more nutrients than any food known. 50 times more vitamin B2 than in bluefish, 25 times more iron than spinach, 17 times more vitamin A than carrots, 17 times more calcium than milk and twice as much protein, 15 times more potassium than bananas, 6 times more zinc than almonds and three times stronger antioxidant than chokeberry.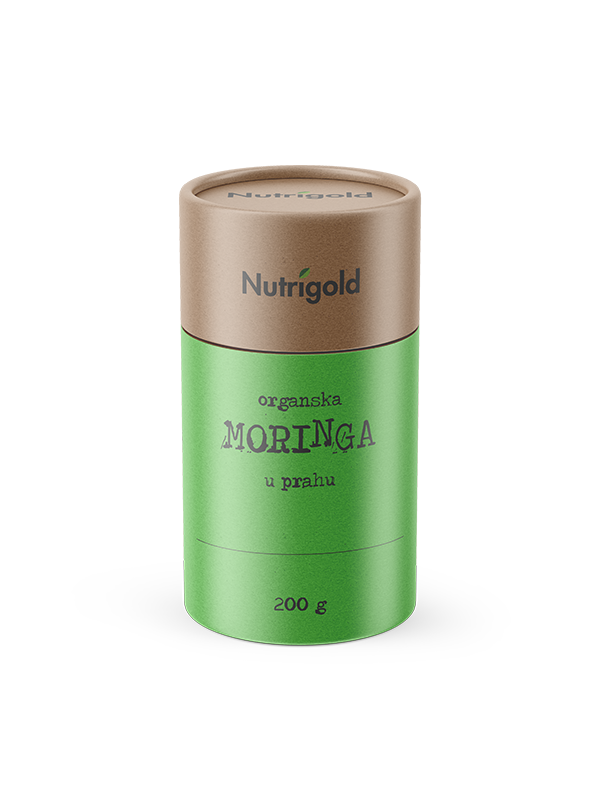 With its high nutritive values, every part of the tree is suitable for either nutritional or commercial purposes. Apart from being used as a food supplement, moring is also widely used in the cosmetic industry for perfumes and aromatherapy oils. Numerous studies proved that this exceptional plant has anticancer properties, antimicrobial action and is used as a natural antibiotic, heals wounds, is a natural analgesic and has antiasthmatic, antioxidant and antifungal effects!
The plant is rich in iron, which contributes to normal cognitive function, and is rich in potassium, magnesium, zinc and copper. It is also a rich source of vitamins A and E and contains vitamins B1, B2 and B3 which helps reduce exhaustion.
How can you use moringa?
Start off with just half of a teaspoon until you reach the maximum recommended dose of 5 grams per day.
Although you will probably need less because each organism is specific, so, as with turmeric, listen to your body's signals. It will take 3-4 weeks to get to know moringa and explore the ideal dose.
Moringa powder is the most commonly available form of the plant. It tends to have a mild, slightly bitter, flavour that complements sweet or savoury dishes. The easiest way of using moringa is diluted with water or in a smoothie. When adding into cooked meals, make sure to add moringa powder when the dish is cold, otherwise, you will lose all the nutritional properties of the plant.
Mix a teaspoon of moringa, a teaspoon of honey and the juice of half a lemon and add water. Turn good morning into even better!
Read our NEWSLETTER and get more content such as this.