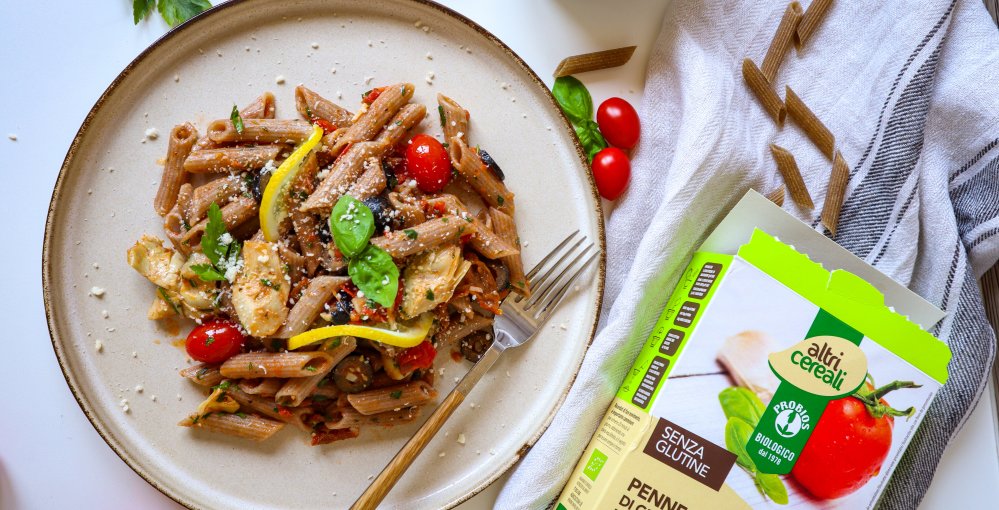 Buckwheat pasta is full of protein! Hopefully, we already got your attention with those few words. Nevertheless, stick around... and fall in love with the Mediterranean colourful pasta with lots of vegetables that will remind you of a vacation all year round.
Light, yet filling. Warm, or maybe as a cold dish, it's entirely up to you to decide and choose your favourite.
Buckwheat noodles contain a very small amount of fat. In addition, buckwheat is slowly but surely taking the place on the well-deserved throne as a popular pseudo-cereal. Naturally gluten-free, it is especially useful for people who do not tolerate gluten. Carbohydrates are the most common group of nutrients found in buckwheat, but it also contains a significant proportion of protein (about 13g per 100 grams of pasta) and various vitamins, minerals and antioxidants.
Enrich this pasta dish with vegetables of your choice and enjoy any time of the day.
Instructions:
Cook pasta according to packaging instructions. Save approx. half a cup of water in which pasta was cooked.
Finely chop the garlic, halve the cherry tomatoes and olives, chop the artichokes and dry tomatoes.
Heat olive oil in the frying pan, add tomatoes, sundried tomatoes, garlic, salt and pepper.
Cook over medium heat for one to two minutes, then add cooked and strained pasta, artichokes and olives. Drizzle with lemon juice and stir on the stove for a minute to two.
If it is too dry, add the liquid in which the pasta was cooked. Taste and add more spices if needed.
Remove from heat, sprinkle with parmesan and parsley.
Another yummy recipe from YumYum! Have you tried it?
There are more of her and our recipes on the NEWSLETTER... and some good promotions as well, don't wait and sign up now!